Today's style is from TheAbyss.
The Secret style is a short, razor-cut bob that ended cleanly at the neckline in the back. The hair in the front is parted on the left with the hair framing the face in a long angle. The hair in the right side of the face falls crosses the right eye, covers the ear and curves to the collarbone. The hair on the left side of the face crosses the left temple and ends just below the cheekbone. This style is versatile and can be used for formal or casual wear.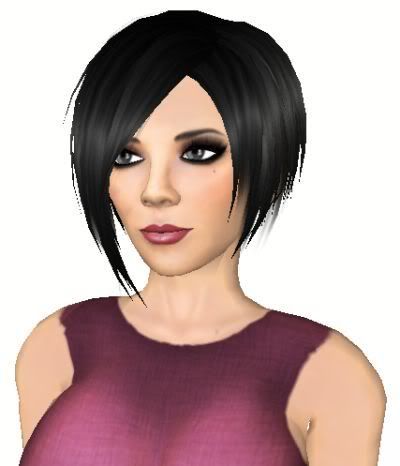 The Secret style costs $1625L for a 13-color fat pack, $250L per color, and the demos are $1L. The colors include: blood, blue, dark ash, fire, full moon, light blonde, medium ash, medium blonde, pink, poison, rust, smoke, steel.
Pose: LAP – Bring It, Skin: Tuli – S5 Pale Diva 3, Clothing: bossa nova – Olivia Dress in aubergine, Eyes: Gurl 6 – Hazel by PopFuzz, Lashes: Cake – Bedroom Lashes