Today's style is from Digital Dragon Designs.
The Zoey style is a loosely held updo with the hair knotted back on the crown with pieces falling out to the left. The loose pieces fall almost level with the tops of the shoulders. Long bangs fall slightly into the eyes with fringed ends while longer pieces frame the face in front of the ears.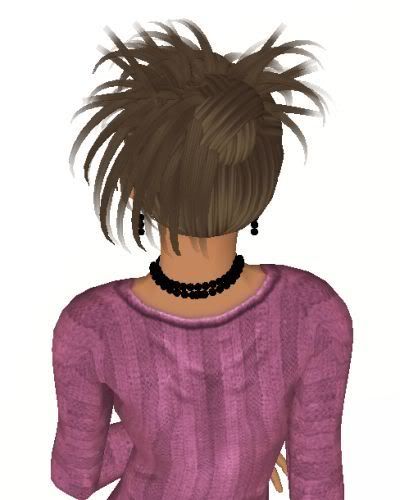 The Zoey style costs $100L per 5-color pack and the demos are free. The colors include: yellow pack(black yellow, blonde yellow, white yellow, yellow, yellow black), grey pack(black grey, grey black, white, white grey, grey white), orange pack(black orange, blonde orange, white orange, orange, orange black), purple pack(black purple, blonde purple, white purple, purple, purple black), blonde pack(blonde, blonde black, dirty blonde, dirty blonde black, dirty blonde brown), pink pack(black pink, blonde pink, white pink, pink, black pink), red pack(black red, blonde red, white red, red, red black), red 2 pack(auburn, auburn black, burgundy, burgundy black, firered), brown pack(black brown, blonde brown, white brown, brown, black brown), brown 2 pack(ash, ash black, dark brown, light brown, light brown blonde), blue pack(black blue, blonde blue, white blue, blue, blue black), black pack(black, black blonde, black white, bloodred, raven), green pack(black green, blonde green, white green, green, green black).
Pose: LAP – cuteness(front),casually cool(back), Skin: SYD – Barley Makeup00, Clothes: Battered Boudoir – Indian Summer, Jewelry: EarthStones – Beaded Onyx Set, Eyes: Gurl 6 – Brown 3 by PopFuzz, Lashes: Cake – Bedroom Lashes