Today's style is from Random. Garbage Prototype has put back up his old styles with options for both men and women.
The Lily style is a low, side ponytail that is gathered below the right ear falling in front of the right shoulder.  The hair falls in curves level with the chest with some strands softly fringed.   The hair is front are wavy curving slightly to the right before angling to the left above the brow.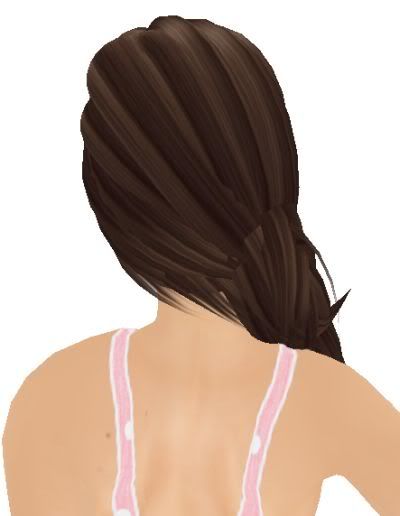 The Lily style costs $200L for a 100-texture wig and the demos are free. The colors include: browns(chestnut, chestnut black, dark brown, brown mix, ash brown, caramel, brown, brown black, brown blonde, tree bark, dark brown blonde, dirt, golden brown), blondes(sunshine blonde, warm blonde, very dirty blonde, golden blonde, platinum blonde, light blonde, ash blonde, dirty blonde, blonde, bright blonde), blonde streaks(platinum blonde green, platinum blonde orange, platinum blonde purple, platinum blonde brown, platinum blonde pink, platinum blonde blue, platinum blonde black, platinum blonde red, platinum blonde turquoise, platinum blonde white, blonde black, blonde brown), pinks(pink, pink mix, star pink, hot pink, hot pink black, light pink, black pink, dark pink), wild mixes(sea mist black, cotton candy, cotton candy, cotton candy tips, sea mist, bubblegum, bubblegum tips), reds/oranges(red black, red mix, vibrant red, honey, light red, red, dark carrot, hazel, ash red, carrot), blacks(black green, black orange, black pink, black blonde, black blue, black brown, black, silver black, black white, black purple, black red, black turquoise), whites(white blue, white brown, white green, white, white black, white blonde, black white, gray, white turquoise, white red, white orange, white pink, white purple), brown/blonde(dark brown blonde, blonde brown, brown blonde), purple(purple mix, light purple, purple, bright purple, black purple), green(very light green, green black, green mix, black green, green), blue(blue mix, dark blue, dark blue black, blue black, black turquoise, black blue, blue, ice blue).
Pose: Striking Pose – Jessica Alba, Skin: Tuli – Elizabeth (light/fr) ~ Shy (br), Clothes: Nooby Doo's – Veronica in Watermelon, Eyes: Tea Lane – Dark Brown Eyes(sqsm), Lashes: Cake – Bedroom Lashes