Today's style is from Playful Kitten.
The Voodoo Girl ReHexed style is a long, straight ponytail that falls past the small of the back. The ponytail sits high on the crown of the head and is held in place by a stylized leather and bone hair wrap. Some hair falls from the bottom of the crown and down the back as well. The face is framed with long, straight bangs that part in the middle and falls to touch the shoulder blades. This style works well for roleplaying the Panther Girls or for when you are just feeling like getting your funk on.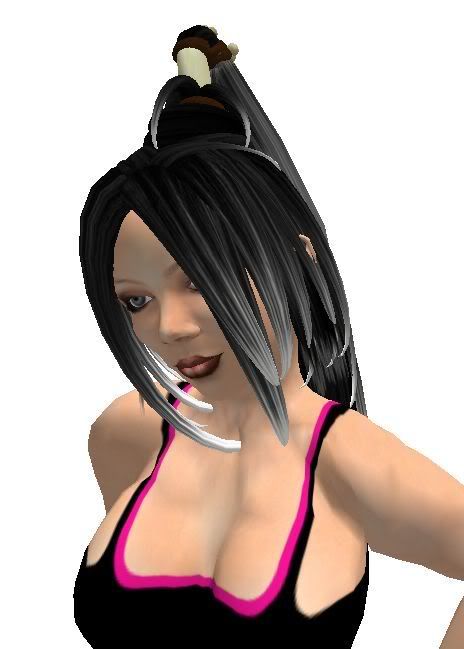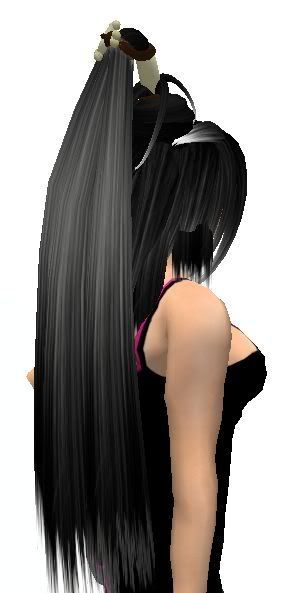 The Voodoo Girl ReHexed style costs L$780 for a fat pack, L$195 for a 4-color pack, and L$1 for the demos. The colors included are: white pack(white, white burnt, silver, silver burnt), black pack(black, black frost, white, white burnt), blonde pack(blonde, blonde burtn, platinum, platinum burnt), brown pack(brown, dark brown, brown frost, brown burnt), red pack(crimson, crimson burnt, red, red burnt), neon pack(violet burnt, blue burnt, pink burnt, green burnt).
Skin: Gala – Pale Sultry Lustrebeam, Clothes: LaynieWear – Geri Pink Stripes