Archive for the 'hairspray' category
Mirada is one of the anchor shops for Hairspray Island. This shop, from the mother of prim hair, features styles for almost anyone's budget. There is a lucky chair with hair as well as clothing and animation accessories. Although the ads show woman, many of the styles are unisex and would work well for a man.
The Odango style is two sculpted semi-buns with the hair falling down into a single bun at the base of the neckline. From the single bun the hair falls straight down to the small of the back in a ponytail. The face is framed with four small, wispy ponytails that are held in place with black bands. The texture is soft-looking with a nice sheen to it.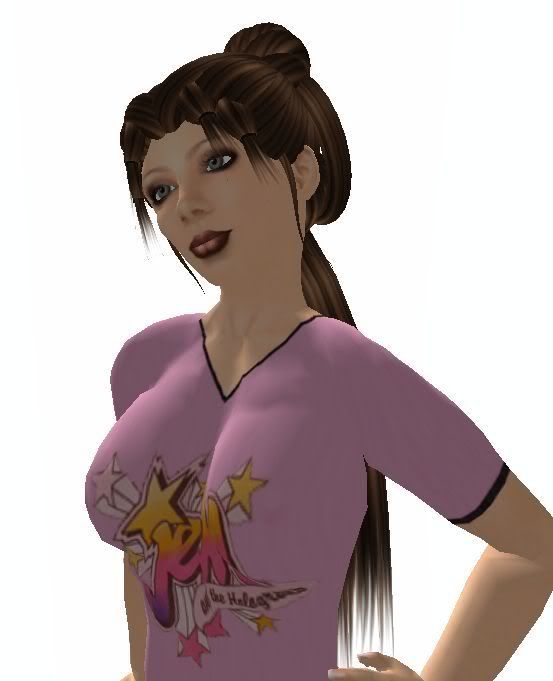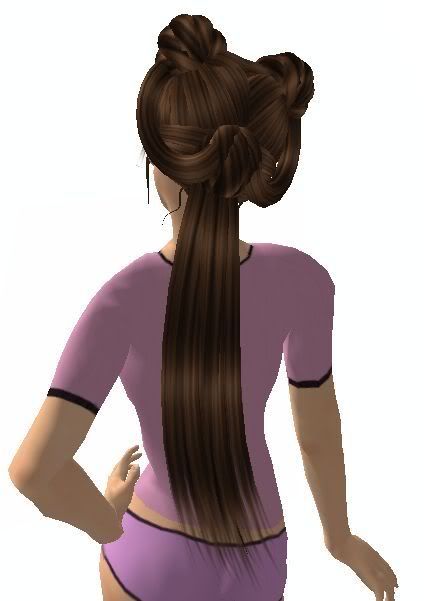 The Odango style costs $1500L for a fat pack, $250L for a 3-color pack, and the demos are $1L. The colors include: whites(snow white, pearl, cream), blondes(platinum, light blonde, blonde), dark blondes(golden blonde, faded blonde, dark blonde), strawberries(strawberry blonde, reddish brown, dark strawberry blonde), golds(orange, light golden brown, golden), browns(light brown, faded brown, brown), dark browns(dark olive, dark golden brown, dark brown), golden browns(light cocoa, golden brown, cocoa), auburns(fiery red, dark auburn, auburn), almost blacks(dark wine, blue ash, blackish brown), grays(silver, off black, charcoal), blacks(jet black, black, almost black), traffic light(yellow, red, green), wild berries(violet, fuchsia, blue), cotton candy(teal candy, pink candy, blue candy).
Skin: Gala – Pale Sultry Lustrebeam, Clothes: SYD – Jem Set
Sinsation is celebrating the opening of their joint venture island, Hairspray with Mirada. There is a freebie hut that sells dollarbies. There are don't miss deals to be had including this cute 50s style to match the island's theme from Sinsation.
The Maryanne style is a short, straight style that falls just past the neckline and curl out, up and back in to form a perfect curl completely around the head from ear to ear. There is a straight cut bang that crossed the brow with a slight curl under. The rest of the hair is held back from the face with a leopard print ribbon. The entire style, including the bow on the ribbon, is well sculpted and suits the new island's 50s them rather well. Pair this style with Vanessa from LaynieWear and you will look like you stepped out of the pages of Cosmopolitan 1955.
Guest Model: Cherlindrea Lamont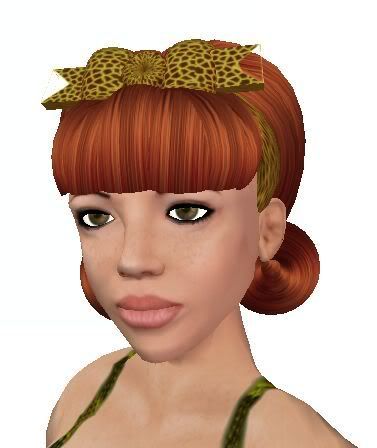 The Maryanne style costs $1L for a 10-color pack. The colors included are: antimatter, black pearl, burgundy, chestnut, fudge, grape, marble brown, pink, shiny black, and vanilla.
Skin: Sin Skin – Freckled Fresh Stratus, Clothes: Nympetamine – Skin Teal
Hairspay, the all hair island, featuring Mirada and Sinsation opened this Sunday to the public and features more hair than you can ever hope for. This also replaces Mirada Hair Mall so many of the vendors that you enjoyed from there have gone island-style to Hairspray. After all, who needs a mall dedicated to hair when you have an entire island where you can breathe hair?
April 3, 2007 – Update: Damien Fate has added a barrier beneath the walkways for those who were having issues with falling. He has also added a teleport system at the landmark spot which clearly indicates the name of the shop, the gender of styles offered at the shop, and if the shop offers freebies.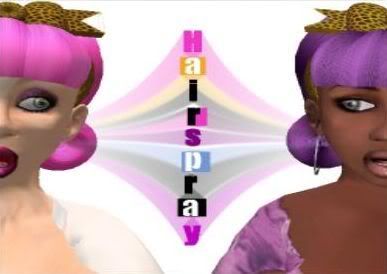 Hairspray Details:
Owners: Damien Fate, Sinnocent Mirabeau, Washu Zebrastripe
Special Features:

Park

Lounge

Freebie Store

Roller Disco

Information Center

Strip Mall

Hair Salon (coming soon)
Vendors:

BG Gearhead

Bryce

Calla

Calico Creations

ETD

Fizzies

GearShift

Glamorous Ladies

Goldie Locks

Gurl 4 Guys

Gurl 6

Hairapy

Hair Styles by Tami McCoy

HCT – Men

HCT – Women

House of Paisley

IF Boutique

Jolie Femme

Madame de Pompadour

MAU's & MAJ's

Mirada

Mystikal Hair Designs

Nuclear Boutique

Panache

Parallax View

Pazazz

Pixelated Dreams

Primped

Random

Sinsation

Taunt

Tickled Pink

Virtual Creations

Wilted Rose
Washu Zebrastripe is one of the owners of Hairspray Island and the mother of modern prim hair:
How long have you been designing prim hair?
I have been designing since early 2003, off and on.
I understand that you were the first prim hair designer, where did you get the idea to create prim hair?
Oh.. lol.. I watch a lot of cartoons and at the time I wanted my av to look more like a cartoon character… and I figured… you could make anything in SL, so I made this huge cartoony ponytail and attached it to my SL hair. It was a hit from then and I went on from there.
Looking at the designers today, how do you think prim hair has changed since your began?
It has changed quite a lot! I was still new when I made my first hairs. When more people came into SL, they all put their ideas into it, and its evolved into what it is now. And I'm sure that hair will continue to evolve as SL develops. My first hairs were just black with no textures. They stuck on the head on top of short default SL hair. I and a lot of friends of mine all had black hair, so it worked well.
You closed Mirada Hair Mall for the new Hairspray, the all hair island. When did you began to conceptualize the island?
It's actually been a thought of mine for quite a while. I'd say for over a year. As people came in to rent spots at Mirada Hair Mall, I realized how much bigger the hair community was getting. Also, with my land being on such a steep hill, I really wanted an area that was nice and flat, lol!
I notice the island has a futuristic feel to it. How did this concept grow out of hair?
When Sinnocent approached me to collaborate on buying a sim together, we had a brainstorming session, thinking of names that we could have for it. She thought of Hairspray and I immediately loved it. When we finally purchased the sim, we decided to give it a 50s theme to play off the movie with the same name. We were looking up google photos, the architecture design of the 50s, and noticed how 'Jetsons' it looked. Right then, my husband got a huge dose of inspiration, and he quickly built the sim all up in a steady 14 hour all-nighter. I think its fantastic. It gives both the renters and customers here something nice and fun to look at.
How does the island differ from the mall?
Well, the biggest and hardest change for me was that Hairspray charges rent to the designers where as the Mirada Mall was free. The designers get an entire shop to design themselves instead of just one small wall. It of course has more designers than the mall did, as well! I hope this sim gives a lot more choice to the customers.
Many small designers were housed in the mall, do you think this move will alter their business?
I certainly hope that this will increase there sales. Not everyone from the mall was able to get a Hairspray shop, however. But I do have a waiting list for anyone who wants to come in later. :) Hopefully the small designers will get their name out faster by being here!
What advice would you offer to the new hair designer just getting their feet wet?
Always keep at it! Hair is a difficult thing to make and no one gets it right the first time. And don't try to sell anything that you would never wear yourself ;)