Today's style is from Digit Darkes.
The Defiance style is a long, straight style that is angled up and out into the mohawk. The hair is pulled up from the sides into the mohawk at the middle. The mohawk part of the style is stands out a good 1-2 feet from the head falling down to the small of the back. The bangs are parted on the right and angled across the face.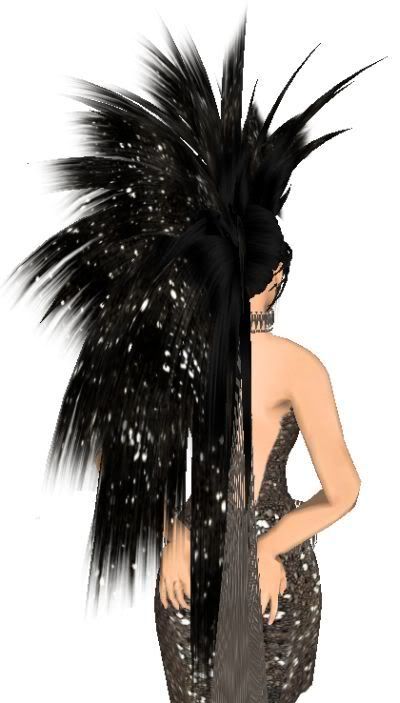 The Defiance style costs $7500L for a mega pack, $500L for 6-color rockstar pack, $300L per 3-color pack. $200L for a 2-color pack and the demos are free. The colors include: straight chocolate, wavy chocolate, straight platinum, wavy platinum, straight merlot, wavy merlot, sasy's black, glitter punk, wavy glitter punk, wavy night smoke, wavy kodiak, wavy night moss, wavy night fire, wavy night blood, wavy night tropic, wavy night storm, wavy twilight, wavy night cloud, wavy night pink, straight glitter punk, straight night smoke, straight kodiak, straight night moss, straight night fire, straight night blood, straight night tropic, straight night storm, straight twilight, straight night cloud, straight night pink, straight charcoal black, straight smoke, straight medium charcoal black, wavy charcoal black, wavy smoke, wavy medium charcoal black, aleriberry straight, digitberry straight, stephyberry straight, aleriberry straight, digitberry straight, stephyberry straight, light auburn straight, medium auburn straight, dark auburn straight, light auburn wavy, medium auburn wavy, dark auburn wavy, true love red straight, true passion red straight, true romance red straight, true love red wavy, true passion red wavy, true romance red wavy, vanilla butter straight, vanilla creme straight, vanilla wafer straigh, vanilla butter wavy, vanilla creme wavy, vanilla wafer wavy, cream latte straight, mocha latte straight, soy latte straight, cream latte wavy, mocha latte wavy, soy latte wavy, light golden blonde straight, medium golden blonde straight, dark golden blonde straight, light golden blonde wavy, medium golden blonde wavy, dark golden blonde wavy, light ash blonde straight, medium ash blonde straight, dark ash blonde straight, light ash blonde wavy, medium ash blonde wavy, dark ash blonde wavy, light caramel brown straight, medium caramel brown straight, dark caramel brown straight, light caramel brown wavy, medium caramel brown wavy, dark caramel brown wavy, light ash brown straight, medium ash brown straight, dark ash brown straight, light ash brown wavy, medium ash brown wavy, dark ash brown wavy, light cocoa brown straight, medium cocoa brown straight, dark cocoa brown straight, light cocoa brown wavy, medium cocoa brown wavy, dark cocoa brown wavy, light golden brown straight, medium golden brown straight, dark golden brown straight, light golden brown wavy, medium golden brown wavy, dark golden brown wavy.
Pose: Animah – System Skirt Totally Casual, Skin: Gala – Pale Sultry Lustrebeam, Clothes: Lemania Indigo Designs – Good Night Moon, Eyes: Gurl 6 – Silver by PopFuzz, Lashes: Cake – Bedroom Lashes