Bryce Tully of Bryce Designs has announced that to celebrate the release of his new style, Beach Comber, he has hidden 44 little hats around the shop(one for each color). Just buy on the hats for $1L and you will receive the new style in a single color so the entire fat pack would be $44L instead of $1500L. This event ends June 2.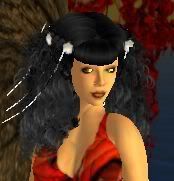 Sheltered Heart of Bewitched is have a party to celebrate the remodeling of their main store on June 1st. There will be live music and lots of new stuff will be released. The music will be performed by Etherian Kamaboko, Charles Bristol and Komuso Tokugawa (blues and indie styles) starting at 7:00 PM SL time. There may be more performers announced at a later date.
Some events include:

Live entertainment.

The grand opening of the Hair 'N' Your Food Cafe".

Unveiling of the "Work Your Magic Wall of Fame" (a showcase of all our freinds showing us what they got).

At least 10 new styles released.

Intro to 3 new color packs(customer favs, black with tips and color with tips)*tip packs are not available for every style*.

Also the contest winners will be announced and the style created and named for the winners will be released.

There will also be a section where you can personalize you styles with extensions and bangs.

Several new accessories will also be released.
Skin: Gala – Pale Sultry Lusterbeam, Bryce Hair: Beach Comber – Raven, Bryce Clothes: SYD – Little Miss Sunshine V-Neck, Bewitched Hair: Nymph – Black, Bewitched Clothes: Rose Petal Creations – Fall Frolic Gown