Today's style is from Here Comes Trouble.
The Arora style is a long, curly style with some of the hair pulled back below the crown. The curls are very similar to the ones seem in the Bonita style with corkscrew curls falling down the back past the shoulders with random straight chunks. The hairline is mostly clean with just a few short and wispy tendrils brushing lightly on the temples. This style reminded me of Counselor Deanna Troy from Star Trek the Next Generation so I paired it with a Star Trek uniform.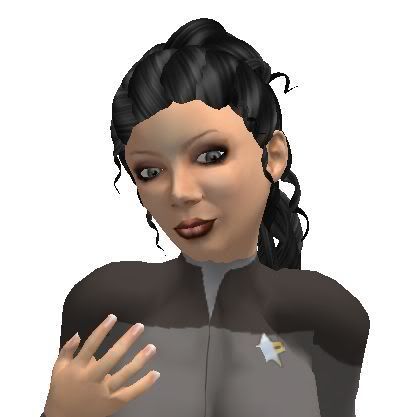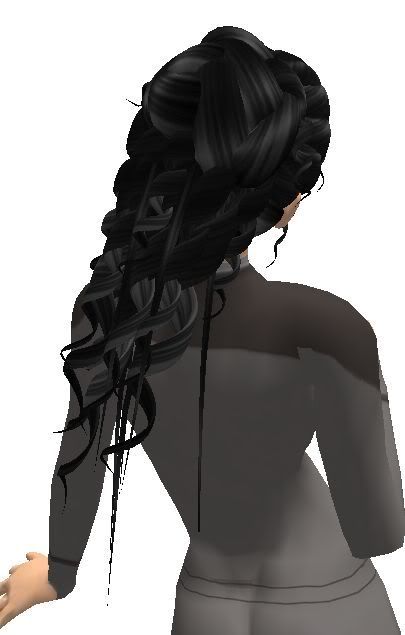 The Arora style comes in a full color pack for L$1 in both big and small sizes. The colors in the pack include: auburn, black, black-brown, burnt, chestnut, cobbler, cocoa, deep red, darkness, chocolate, brown, dirty, dark pink, golden, green, honey, iced, killer, light purple, light pink, orange, pink, platinum, pretty, purple, purplie, raven, sandy, sexy, sherbet, red sophisticated, strawberry blonde, black-purple tipped, black-red tipped, brown-auburn tipped, brown-blonde tipped, girlie tipped, green-black tipped, orange-black tipped, platinum-black tipped, platinum-pink tipped, black-blue tipped, pumpkin dipped, purple-black tipped, sandy-blue tipped, sky tipped, spring tipped, teal-black tipped, vixen tipped, white-black tipped, white-silver tipped, vamped, white, wicked.
Skin: Gala – Pale Sultry Lustrebeam, Clothes: Katherin's Star Trek Shop – Crewman Costume