Today's style is from Dernier Cri.
The Sarah style is a short, straight style that ends just at the neckline with a single layer softly falling a bit lower. There are layers thoughout the entire style including the shaggy swoop bangs that part of the right and fall slightly into the left eye. As with all Dernier Cri styles, Sarah comes with the fun color dye kit.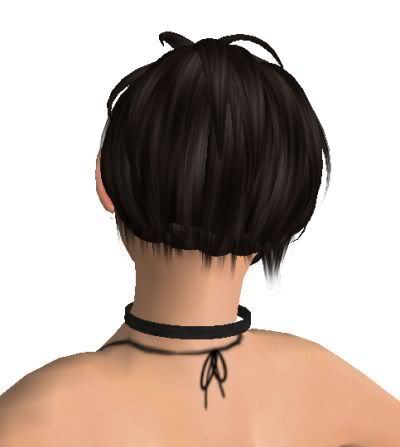 The Sarah style costs $250L for a 10 hair pack, $175 for a 5 hair pack, $100L for a 3 hair pack, $50L for 1 hair pack, and the demos are $1L. The dye choices include: rainbow(9 choices), black(solid or 8 tipped choices), black dip, red dipped, red, salmon, beige, golden, washed, warm.
Pose: LAP – Barbie 5, Skin: D-Skin – 31_E0_F0_L2, Clothes: artilleri – Kelli Bikini, Jewelry: EarthStones – Moonstone Choker, Eyes: Gurl 6 – Silver by PopFuzz, Lashes: Cake – Bedroom Lashes