Today's style is from ETD.
The Jessica II style is a long, wavy style that falls down to mid-back in layers. The face is framed with similar layers with the ears being completely covered. The style is topped with a soft, sculptie hat with a wide, floppy brim in cream with a brown band. This style works well with any summer dress and the big bonus, its a dollarbie for a willow pack.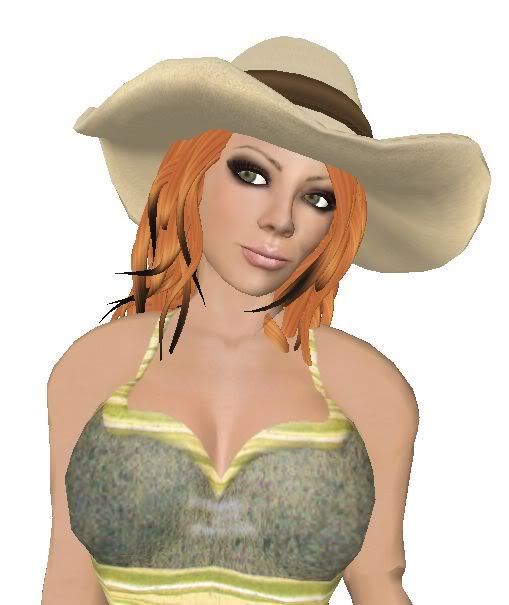 The Jessica II style costs $1L. The colors include: amethyst, amethyst blackened, amethyst burnt, apricot, apricot blackened, apricot burnt, auburn, auburn blackened, auburn burnt, black, black blue, black bronzed, black faded, black frosted, black green, black orange, black pink, black purple, black red, black yellow, blackberry, blonde, blonde blackened, blonde blue, blonde burnt, blonde frosted, blonde green, blonde orange, blonde pink, blonde purple, blonde red, blonde yellow, caramel, caramel blackened, caramel burnt, celadon, celadon blackened, celadon burnt, cerise, cerise blackened, cerise burnt, chestnut, chestnut blackened, chestnut burnt, chocolate, chocolate blackened, chocolate burnt, cinnamon, cinnamon blackened, cinnamon burnt, copper, copper blackened, copper burnt, crimson, crimson blackened, crimson burnt, dirty, dirty blackened, dirty burnt, ebony, ebony bronzed, ebony faded, elika's brown, elika's red, emerald, emerald blackened, emerald burnt, espresso, espresso burnt, espresso faded, fire, fire blackened, fire burnt, gray, gray blackened, gray burnt, honey, honey blackened, honey burnt, mahogany, mahogany blackened, mahogany burnt, nickel, nickel blackened, nickel burnt, obsidian, orange, orange blackened, orange burnt, pink, pink blackened, pink burnt, platinum, platinum blackened, platinum burnt, purple, purple blackened, purple burnt, raspberry, sapphire, sapphire blackened, sapphire burnt, scarlet, scarlet blackened, scarlet burnt, sky, sky blackened, sky burnt, smoke, smoke burnt, smoke faded, strawberry, strawberry blackened, strawberry burnt, sunny, sunny blackened, sunny burnt, tawny, tawny blackened, tawny burnt, teal, teal blackened, teal burnt, turquoise, turquoise blackened, turquoise burnt, white, white blackened, white burnt.
Skin: MM Skin – SkinGloss Fair Smokey, Clothes: LaynieWear – Bree in Lemon
This post was written by Teagan Blackthorne
Categories:
dollarbie
,
elikatira
,
hats
Comments Off